MORETTI FORNI CONVEYOR OVENS
The perfect machine. This was the objective guiding Italy's Moretti Forni team in the development of the serieT conveyor oven. Numerous cutting-edge applications have helped to achieve a state of the art conveyor oven. The serieT conveyor oven is a cutting edge machine which is easy and intuitive to use.
The technology used on the new serieT is the most refined available on the market today. The serieT features the patented Cool-Around Technology®, which keeps the exterior surfaces of the oven cool to the touch. There is the Best-Flow® System (patented), for perfectly even baking and two more totally new features which are Dual-Temp® Technology and Dual-Flow® Technology (both patented). These technologies allow for separate top and bottom temperature control on both gas and electric versions. Another new and equally exclusive feature (patented) is the Adaptive-Gas® Technology which introduces burner modulation control on the gas models which cuts energy consumption and guarantees even baking in any condition. Special attention has also been dedicated to accessories and complementary features: the useful Swing-In-Out® System for the entry and exit of products to be baked with minimum heat dispersion and therefore, maximum efficiency; and Remote-Master® Technology for remote control of the oven's main functions.
The new serieT by Moretti Forni: innovation in progress.
View the Moretti Forni conveyor oven brochure
Moretti Forni T64E - 16" Conveyor Oven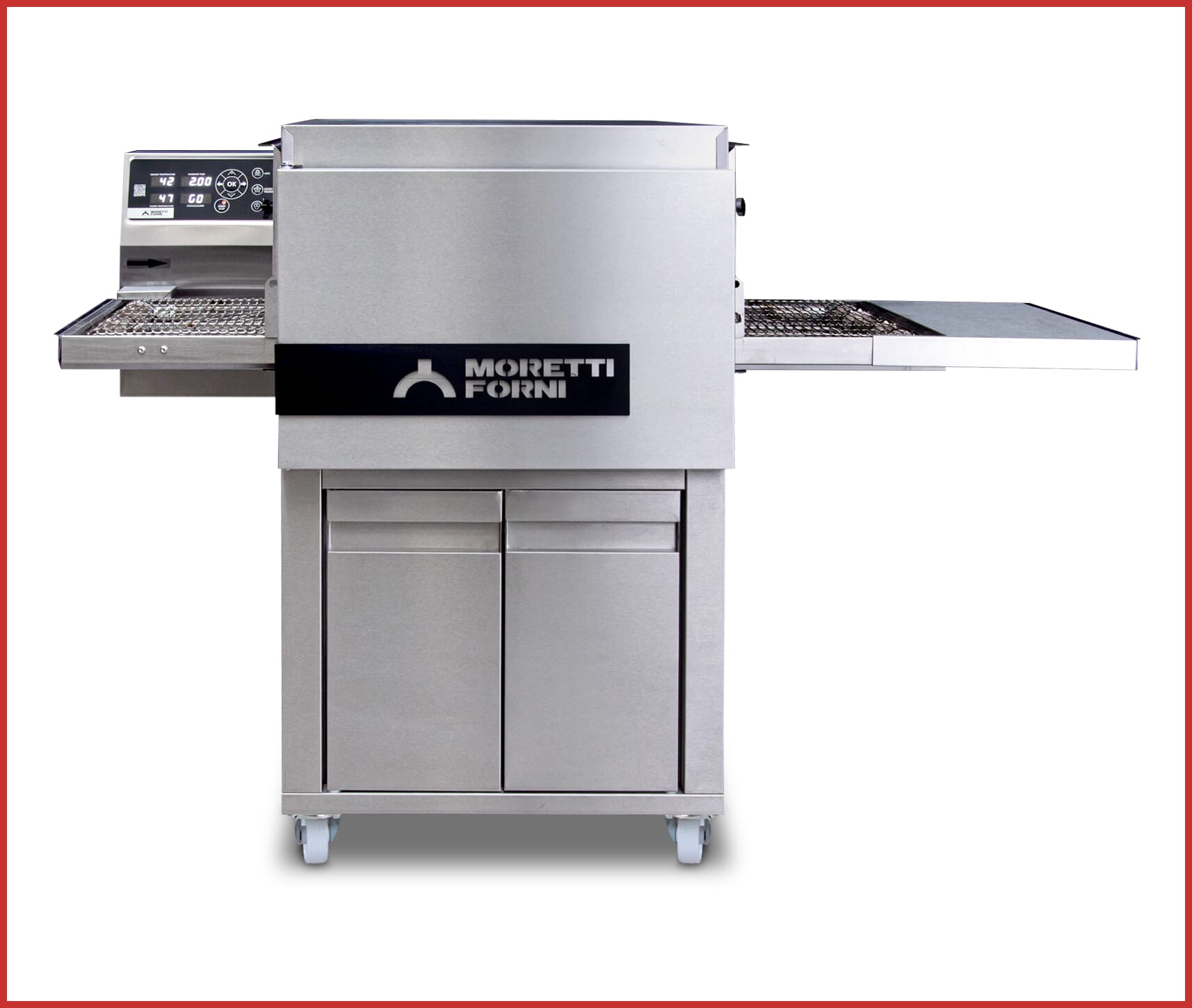 Belt Width: 16" (406mm)
Baking Zone: 20" (510mm)
Output: 25 x 12" pizzas / hour (Estimated)
Dimensions: 1234mm x 800mm x 1080mm (W x D x H)
Power Supply: Electric (6.9 KW) Single Phase or Three Phase
Warranty: 1 Years Parts and labour
Oven Price:
£4,972
+ VAT
Stand Price:
£419
+ VAT
Find out more about leasing
Moretti Forni T64E Spec Sheet
T64E | In stock:
| &nbsp&nbsp&nbsp&nbsp&nbsp&nbsp&nbsp&nbsp&nbsp&nbsp&nbspDelivery: Free, 2-3 Days | &nbsp&nbsp&nbsp&nbsp&nbsp&nbsp&nbsp&nbsp&nbsp&nbsp&nbsp&nbsp&nbsp Plug Fitted:
Moretti Forni T64G - 16" Conveyor Oven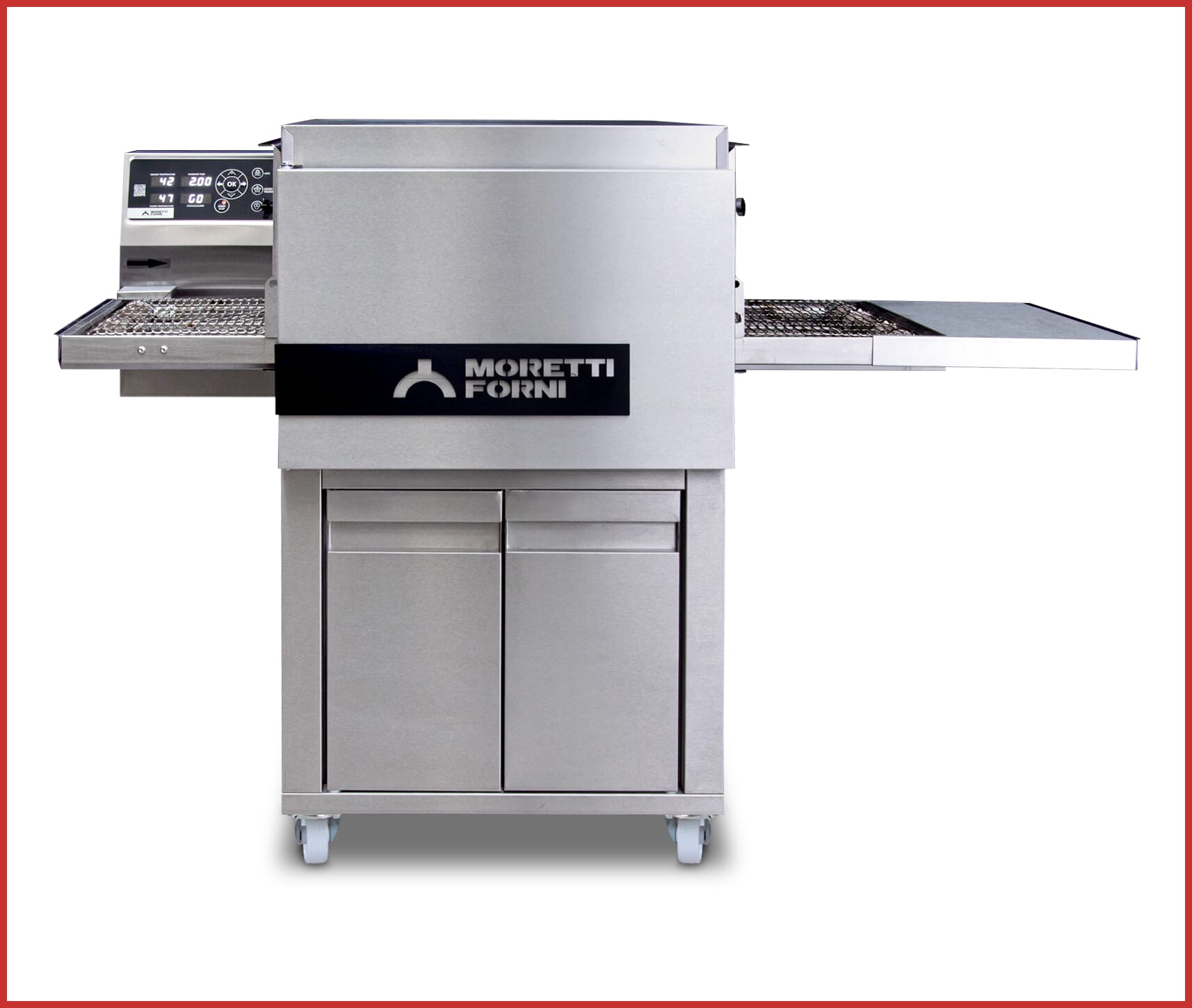 Belt Width: 16" (406mm)
Baking Zone: 20" (510mm)
Output: 25 x 12" pizzas / hour (Estimated)
Dimensions: 1234mm x 897mm x 1080mm (W x D x H)
Power Supply: Gas (34,800 BTU's ) 1/2" connection
Warranty: 1 Years Parts and labour
Oven Price:
£5,020
+ VAT
Stand Price:
£395
+ VAT
Find out more about leasing
Moretti Forni T64G Spec Sheet
T64G | In stock:
| &nbsp&nbsp&nbsp&nbsp&nbsp&nbsp&nbsp&nbsp&nbsp&nbsp&nbspDelivery: Free, 2-3 Days | &nbsp&nbsp&nbsp&nbsp&nbsp&nbsp&nbsp&nbsp&nbsp&nbsp&nbsp&nbsp&nbsp Plug Fitted:
Moretti Forni T75E - 20" Conveyor Oven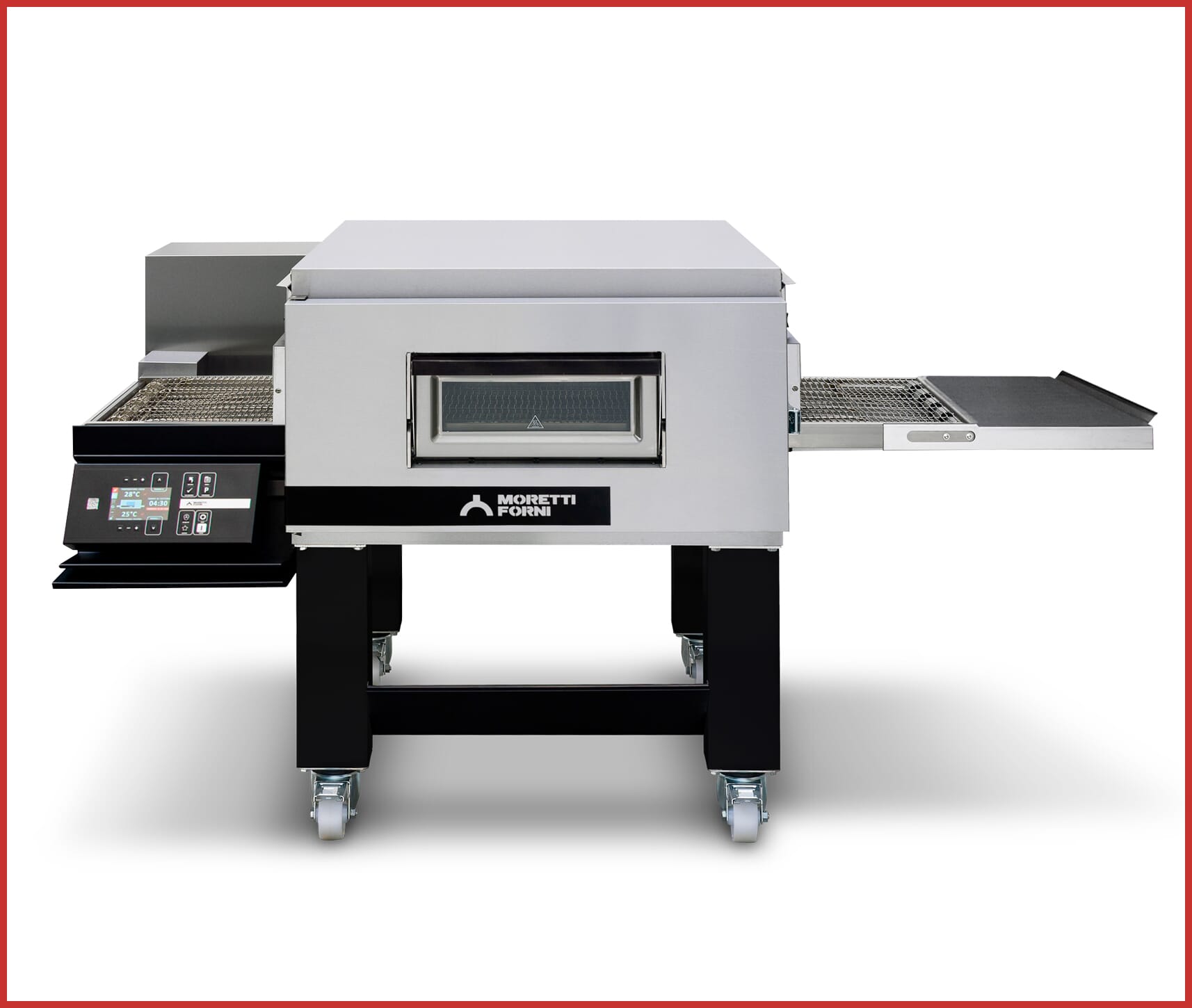 Belt Width: 20" (510mm)
Baking Zone: 29" (740mm)
Output: 48 x 12" pizzas / hour (Estimated)
Dimensions: 1810mm x 1210mm x 1160mm (W x D x H)
Power Supply: Electric (16.5 KW) Single Phase or Three Phase
Warranty: 1 Years Parts and labour
Price:
£8,410
+ VAT
Find out more about leasing
Moretti Forni T75E Spec Sheet
T75E | In stock:
| &nbsp&nbsp&nbsp&nbsp&nbsp&nbsp&nbsp&nbsp&nbsp&nbsp&nbspDelivery: Free, 5-6 Weeks | &nbsp&nbsp&nbsp&nbsp&nbsp&nbsp&nbsp&nbsp&nbsp&nbsp&nbsp&nbsp&nbsp Plug Fitted:
Moretti Forni T75G - 20" Conveyor Oven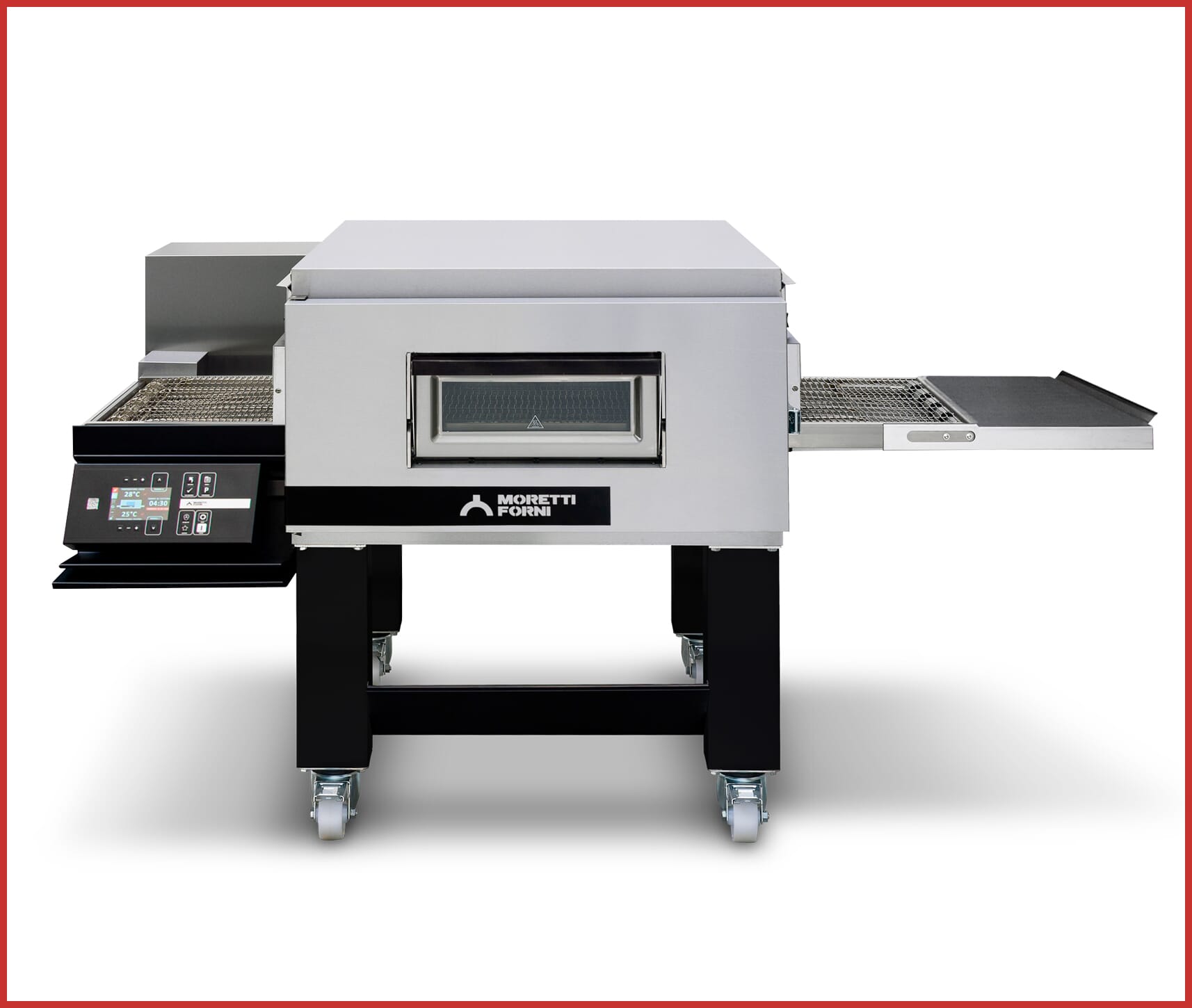 Belt Width: 20" (500mm)
Baking Zone: 29" (740mm)
Output: 48 x 12" pizzas / hour (Estimated)
Dimensions: 1770mm x 1302mm x 1160mm (W x D x H)
Power Supply: Gas (64,800 BTU's ) 1/2" connection
Warranty: 1 Years Parts and labour
Price:
£8,960
+ VAT
Find out more about leasing
Moretti Forni T75G Spec Sheet
T75G | In stock:
| &nbsp&nbsp&nbsp&nbsp&nbsp&nbsp&nbsp&nbsp&nbsp&nbsp&nbspDelivery: Free, 2-3 Days | &nbsp&nbsp&nbsp&nbsp&nbsp&nbsp&nbsp&nbsp&nbsp&nbsp&nbsp&nbsp&nbsp Plug Fitted:
Moretti Forni TT96E - 26" Conveyor Oven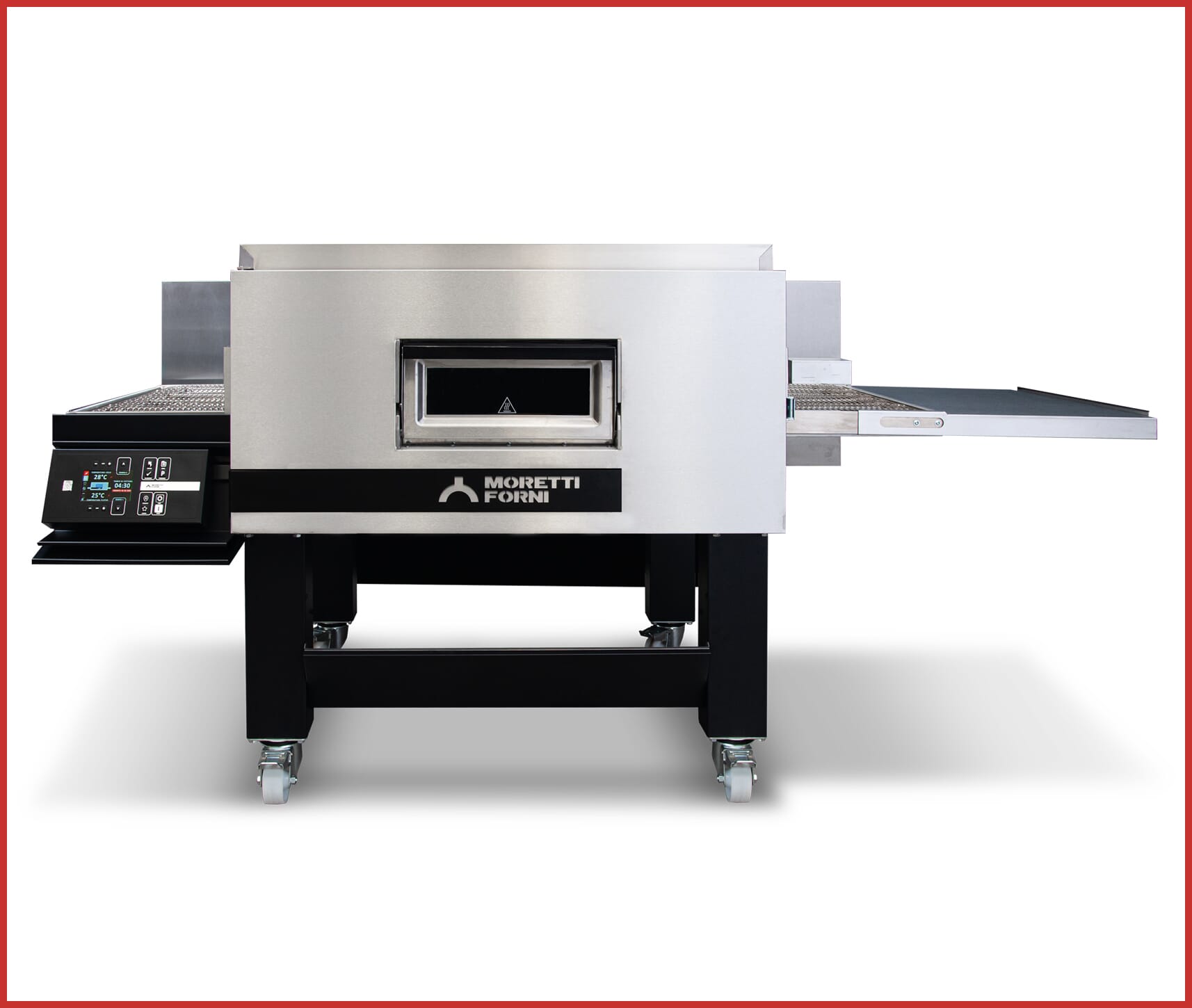 Belt Width: 26" (650mm)
Baking Zone: 36" (910mm)
Output: 100 x 12" pizzas / hour (Estimated)
Dimensions: 2050mm x 1185mm x 1220mm (W x D x H)
Power Supply: Electric (17.8 KW) Three Phase
Warranty: 1 Years Parts and labour
Price:
£10,415
+ VAT
Find out more about leasing
Moretti Forni TT96E Spec Sheet
TT96E | In stock:
| &nbsp&nbsp&nbsp&nbsp&nbsp&nbsp&nbsp&nbsp&nbsp&nbsp&nbspDelivery: Free, 5-6 Weeks | &nbsp&nbsp&nbsp&nbsp&nbsp&nbsp&nbsp&nbsp&nbsp&nbsp&nbsp&nbsp&nbsp Plug Fitted:
Moretti Forni TT96G - 26" Conveyor Oven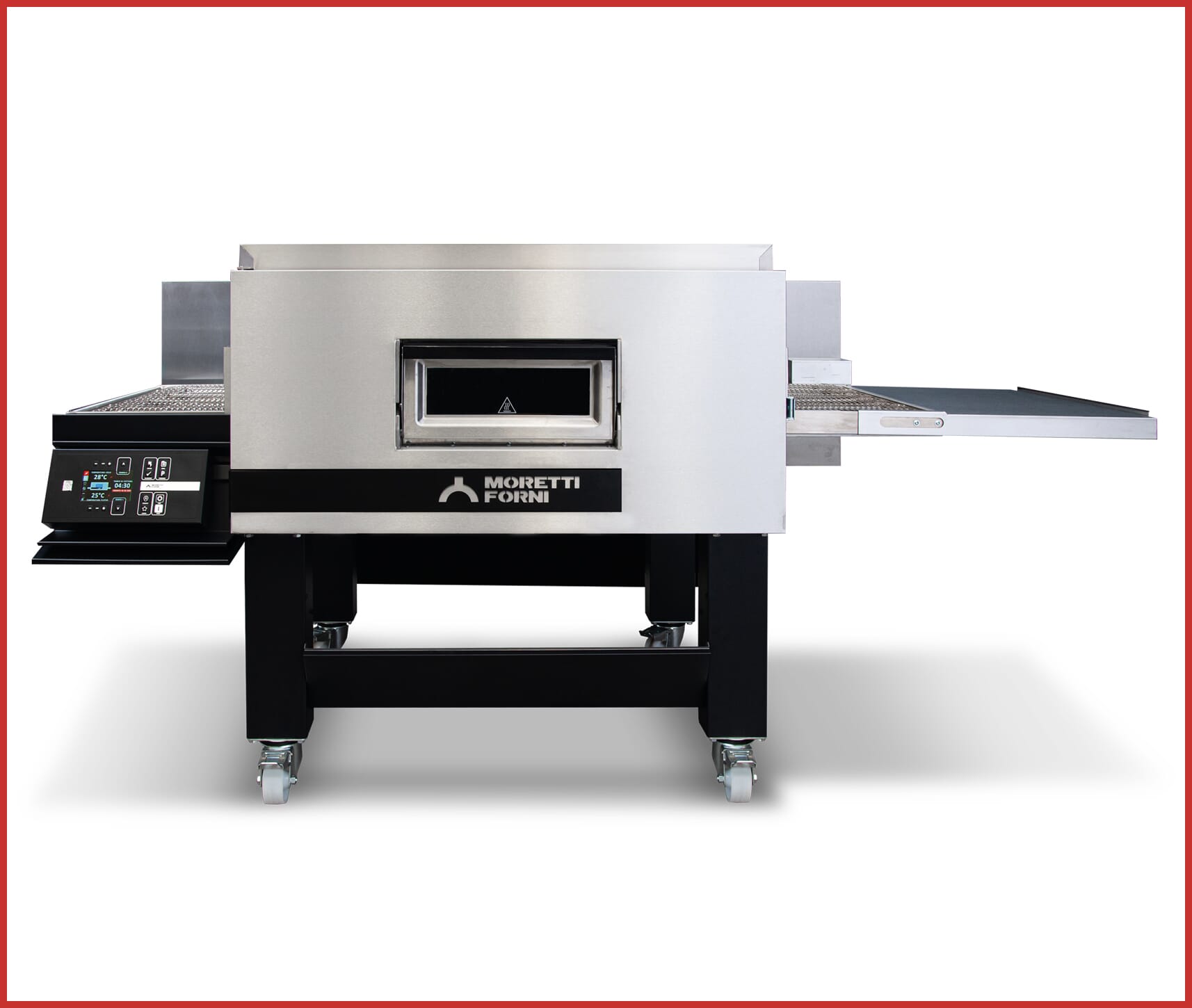 Belt Width: 26" (650mm)
Baking Zone: 36" (910mm)
Output: 100 x 12" pizzas / hour (Estimated)
Dimensions: 2050mm x 1295mm x 1220mm (W x D x H)
Power Supply: Gas (76,000 BTU's ) 1/2" connection
Warranty: 1 Years Parts and labour
Price:
£11,200
+ VAT
Find out more about leasing
Moretti Forni TT96G Spec Sheet
TT96G | In stock:
| &nbsp&nbsp&nbsp&nbsp&nbsp&nbsp&nbsp&nbsp&nbsp&nbsp&nbspDelivery: Free, 2-3 Days | &nbsp&nbsp&nbsp&nbsp&nbsp&nbsp&nbsp&nbsp&nbsp&nbsp&nbsp&nbsp&nbsp Plug Fitted:
Moretti Forni TT98E - 32" Conveyor Oven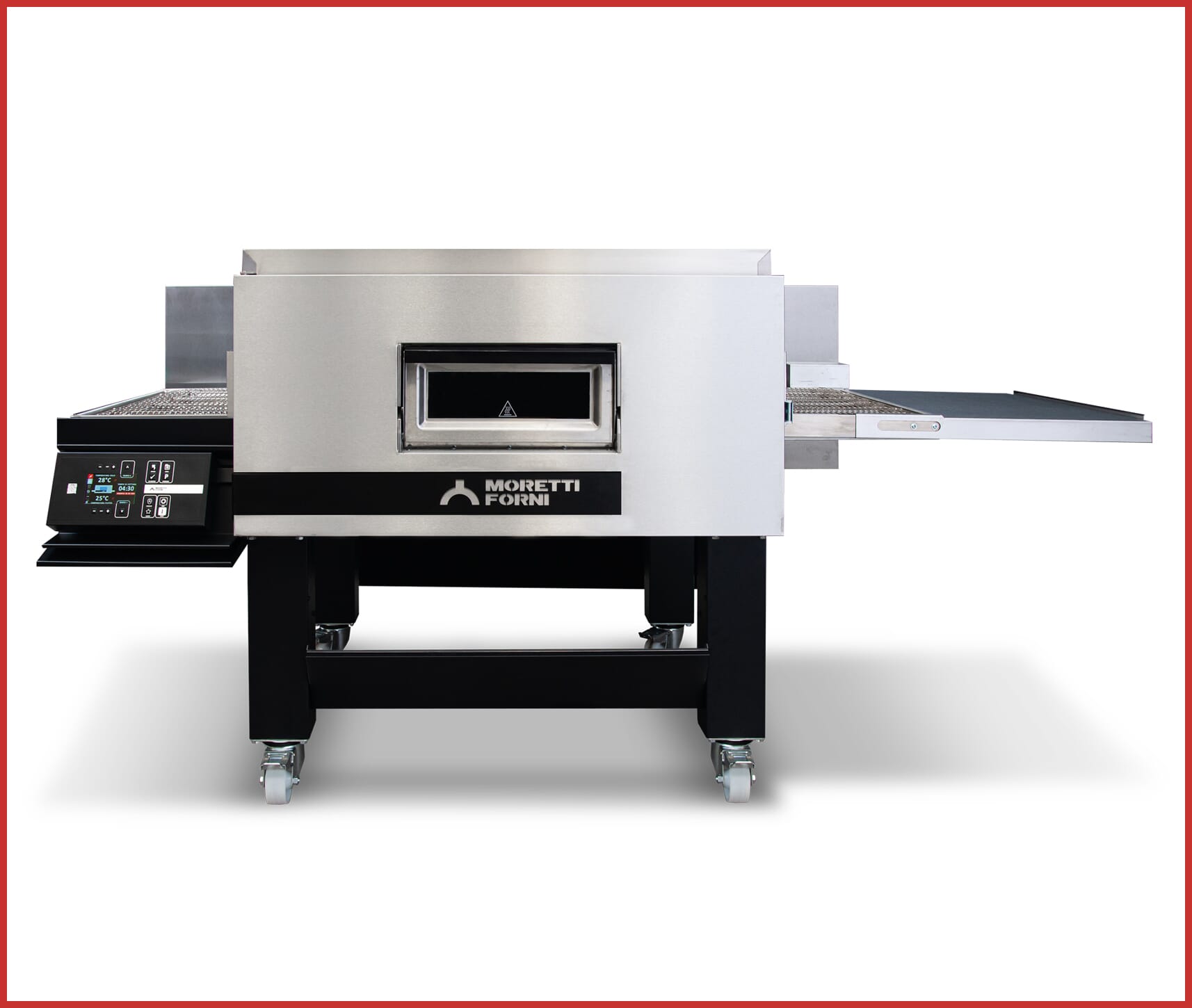 Belt Width: 32" (810mm)
Baking Zone: 36" (910mm)
Output: 125 x 12" pizzas / hour (Estimated)
Dimensions: 2050mm x 1476mm x 1220mm (W x D x H)
Power Supply: Electric (21.8 KW) Three Phase only
Warranty: 1 Years Parts and labour
Price:
£11,881
+ VAT
Find out more about leasing
Moretti Forni TT98E Spec Sheet
TT98E | In stock:
| &nbsp&nbsp&nbsp&nbsp&nbsp&nbsp&nbsp&nbsp&nbsp&nbsp&nbspDelivery: Free, 5-6 Weeks | &nbsp&nbsp&nbsp&nbsp&nbsp&nbsp&nbsp&nbsp&nbsp&nbsp&nbsp&nbsp&nbsp Plug Fitted:
Moretti Forni TT98G - 32" Conveyor Oven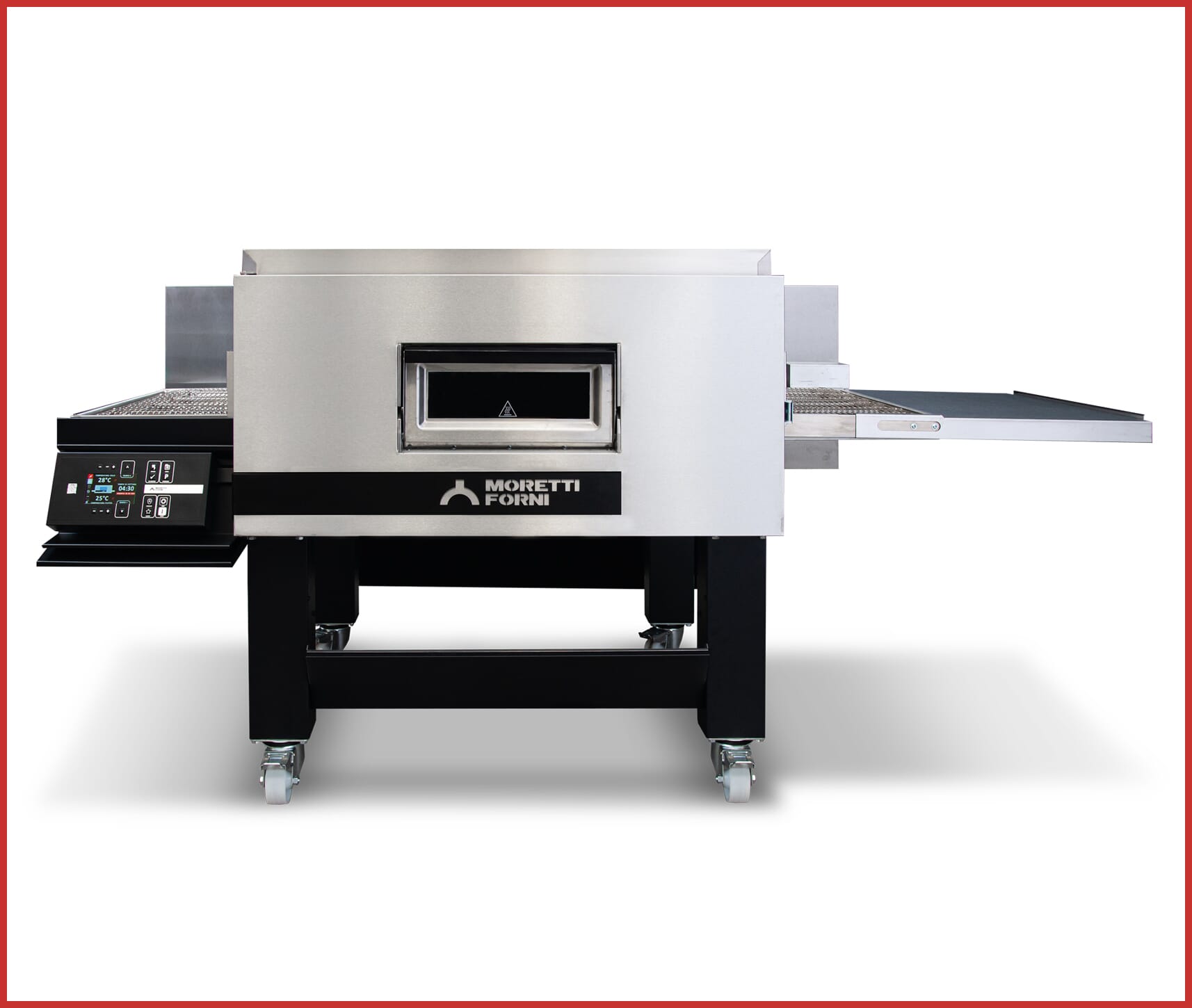 Belt Width: 32" (810mm)
Baking Zone: 36" (910mm)
Output: 125 x 12" pizzas / hour (Estimated)
Dimensions: 2050mm x 1476mm x 1220mm (W x D x H)
Power Supply: Gas (103,000 BTU's ) 1/2" connection
Warranty: 1 Years Parts and labour
Price:
£12,530
+ VAT
Find out more about leasing
Moretti Forni TT98G Spec Sheet
TT98G | In stock:
| &nbsp&nbsp&nbsp&nbsp&nbsp&nbsp&nbsp&nbsp&nbsp&nbsp&nbspDelivery: Free, 2-3 Days | &nbsp&nbsp&nbsp&nbsp&nbsp&nbsp&nbsp&nbsp&nbsp&nbsp&nbsp&nbsp&nbsp Plug Fitted: