TRUE SANDWICH PREP TABLES
TSSU Prep Counters are ideal for the preparation of peri peri burgers and wraps, featuring configurable Gastronorm pan space which can accommodate different combinations of pan sizes to suit your operation, they also feature a large capacity refrigerated storage for easy ingredient replenishment.

Unbeatable Pan Temperatures - The patented air-flow refrigeration system maintains a consistent and even 0.5°C to 5°C temperature across ALL pans.

100% Front-breathing - Ideal for built-in installation. Multiple units can be placed side-by-side to create a longer "makeline".

Manufactured in the USA with a 5 year warranty, True's TSSU Prep Counters are designed with enduring quality that protects your long term investment.

True TSSU-27-08-HC - 1 Door Sandwich Prep Table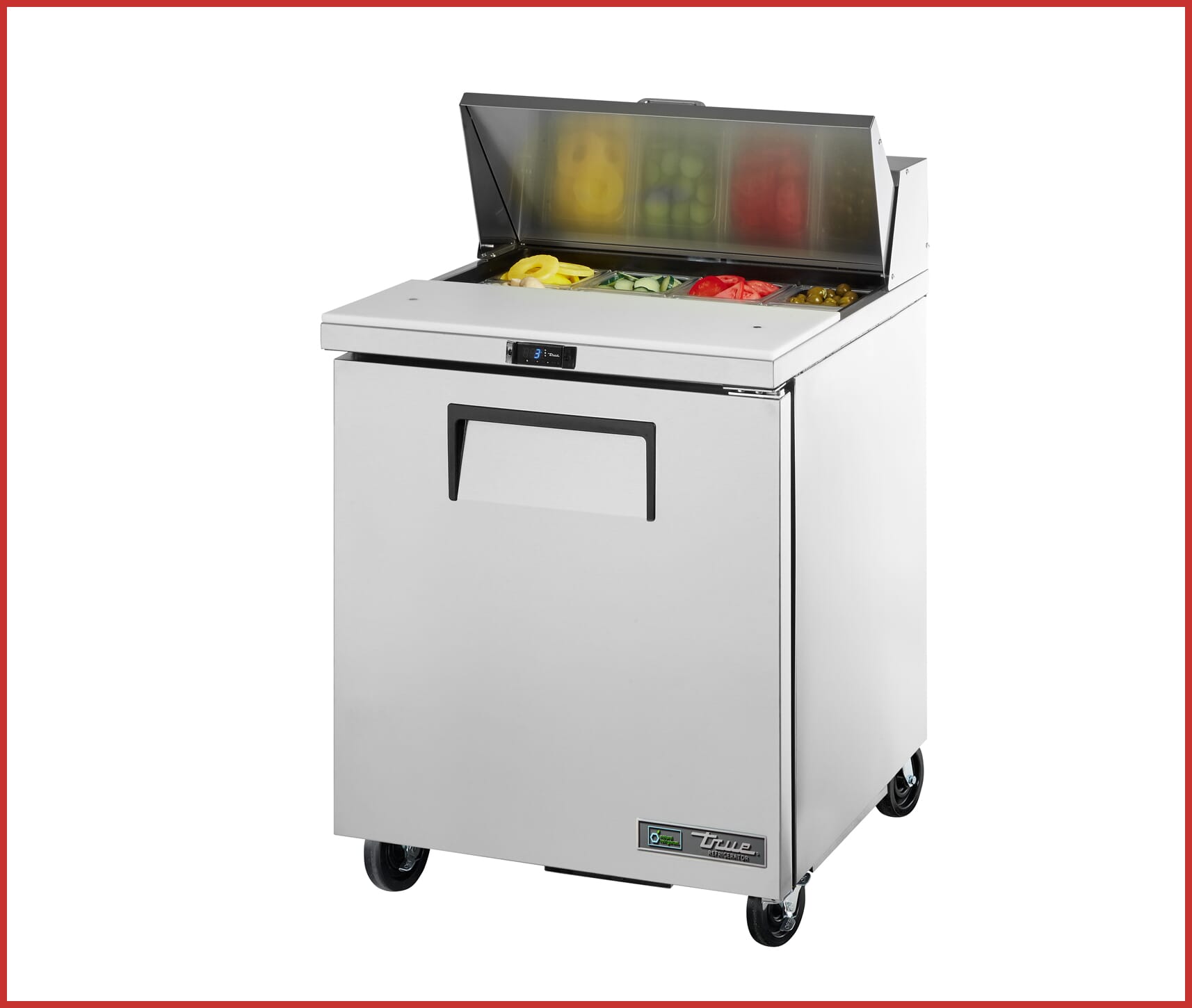 Dimensions: 702mm x 766mm x 1093mm
Shelf Size: 590mm x 488mm
GN Capacity: 8 x 1/6 150mm deep
Doors: 1
Storage Capacity: 184 Litres
Shelves: 2
Finish: Stainless Steel
Temperature: 0.5 - +5
Power Supply: 13AMP Plug Fitted
Warranty: 5 Years Parts and Labour
Price:
£1,408
+ VAT
True TSSU-27-08-HC Spec Sheet
True TSSU-48-12-HC - 2 Door Sandwich Prep Table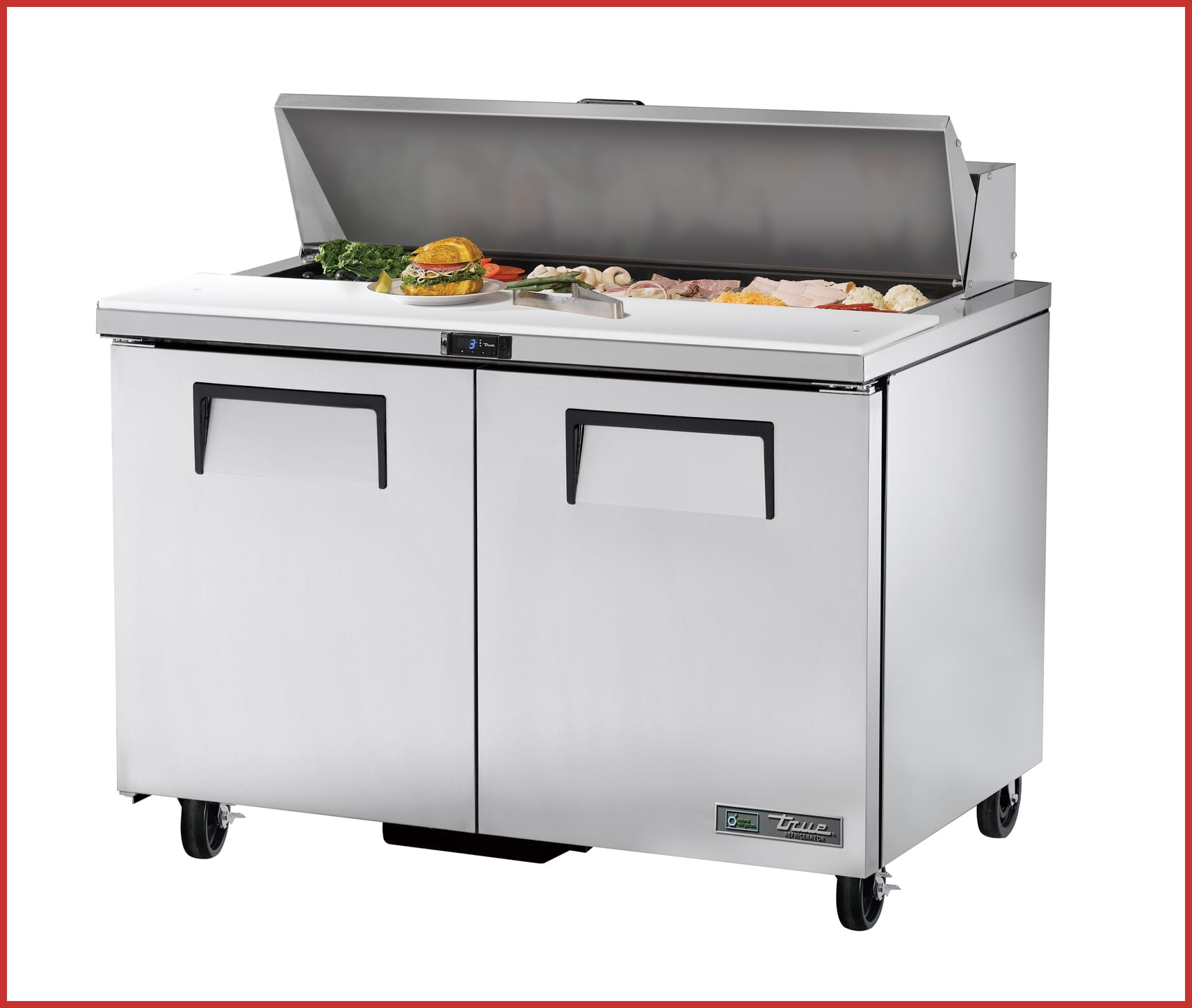 Dimensions: 1229mm x 766mm x 1093mm
Shelf Size: 547mm x 514mm (x2) + 547mm x 349mm (x2)
GN Capacity: 12 x 1/6 150mm deep
Doors: 2
Storage Capacity: 340 Litres
Shelves: 4
Finish: Stainless Steel
Temperature: +0.5 - +5
Power Supply: 13AMP Plug Fitted
Warranty: 5 Years Parts and Labour
Price:
£2,110
+ VAT
True TSSU-48-12-HC Spec Sheet
True TSSU-60-16-HC - 2 Door Sandwich Prep Table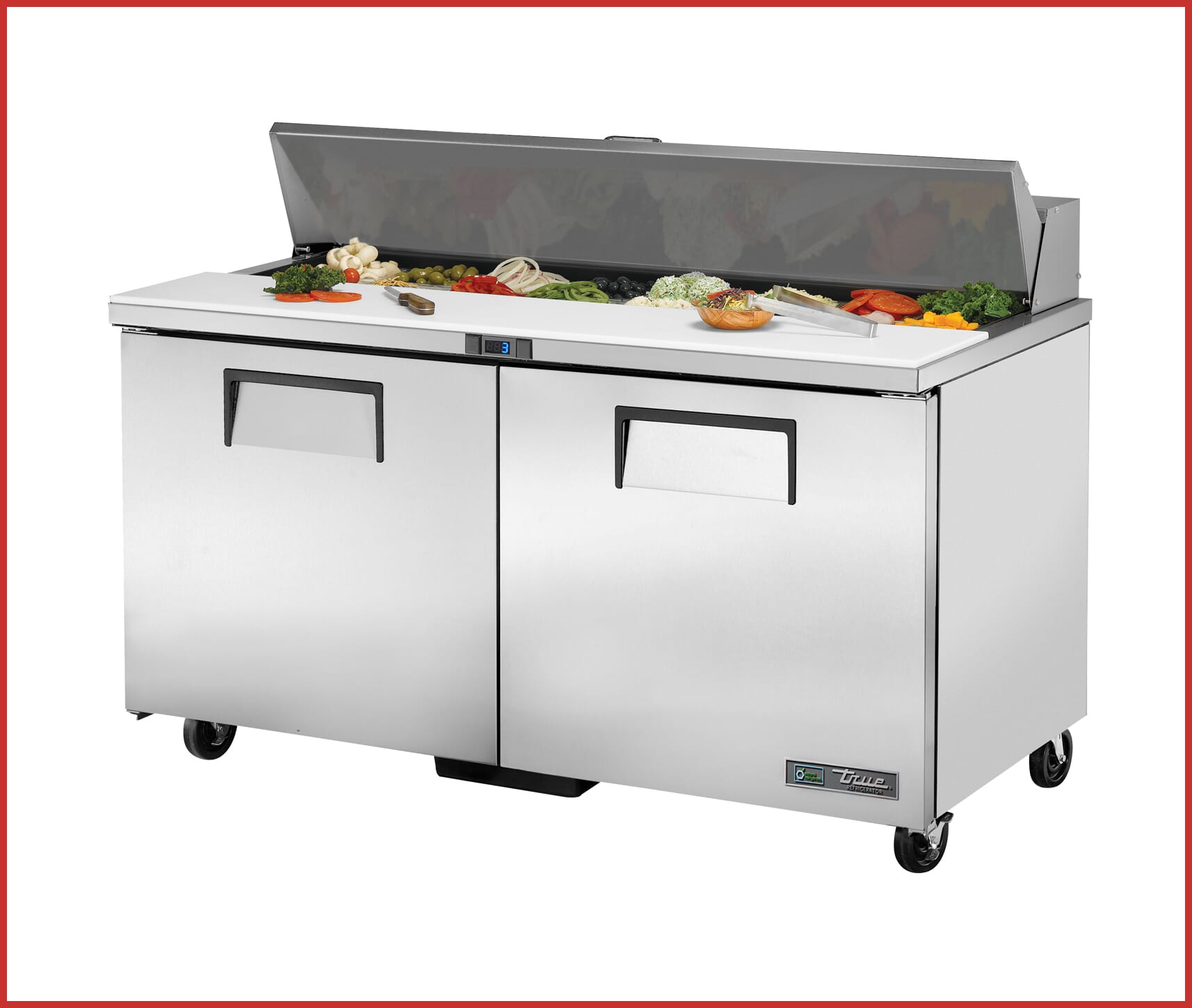 Dimensions: 1534mm x 766mm x 1093mm
Shelf Size: 700mm x 546mm (x2) + 700mm x 349mm (x2)
GN Capacity: 16 x 1/6 150mm deep
Doors: 2
Storage Capacity: 439 Litres
Shelves: 4
Finish: Stainless Steel
Temperature: +0.5 - +5
Power Supply: 13AMP Plug Fitted
Warranty: 5 Years Parts and Labour
Price:
£2,381
+ VAT
True TSSU-60-16-HC Spec Sheet
True TSSU-60-16-DS-ST-HC - 2 Door - Dual Sided - Sandwich Prep Table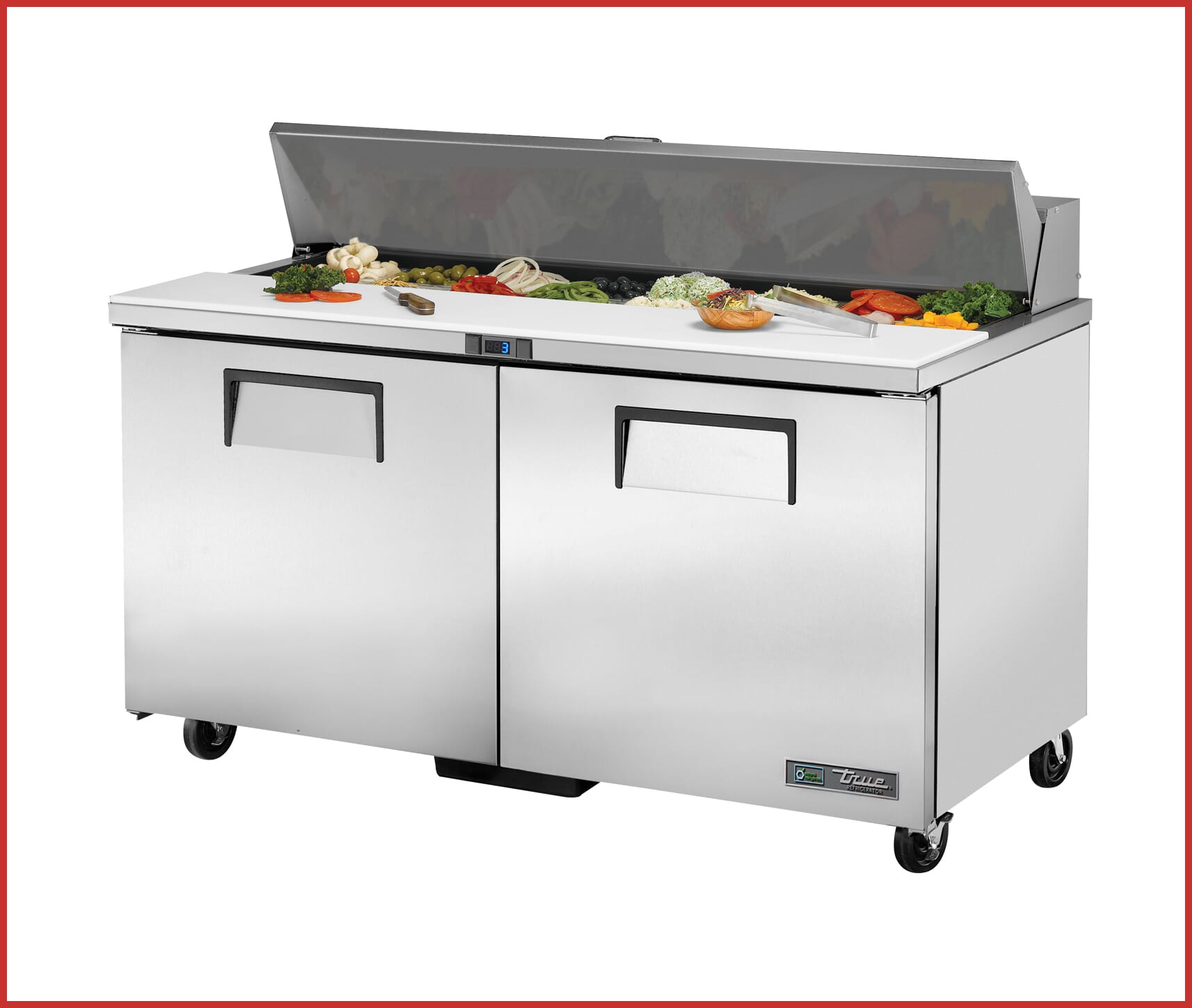 Dimensions: 1534mm x 985mm x 956mm
Shelf Size: 700mm x 546mm (x2) + 700mm x 349mm (x2)
GN Capacity: 16 x 1/6 150mm deep
Doors: 2
Storage Capacity: 439 Litres
Shelves: 4
Finish: Stainless Steel
Temperature: +0.5 - +5
Power Supply: 13AMP Plug Fitted
Warranty: 5 Years Parts and Labour
Price:
£2,683
+ VAT
True TSSU-60-16-DS-ST-HC Spec Sheet
True TSSU-72-18-HC - 3 Door Sandwich Prep Table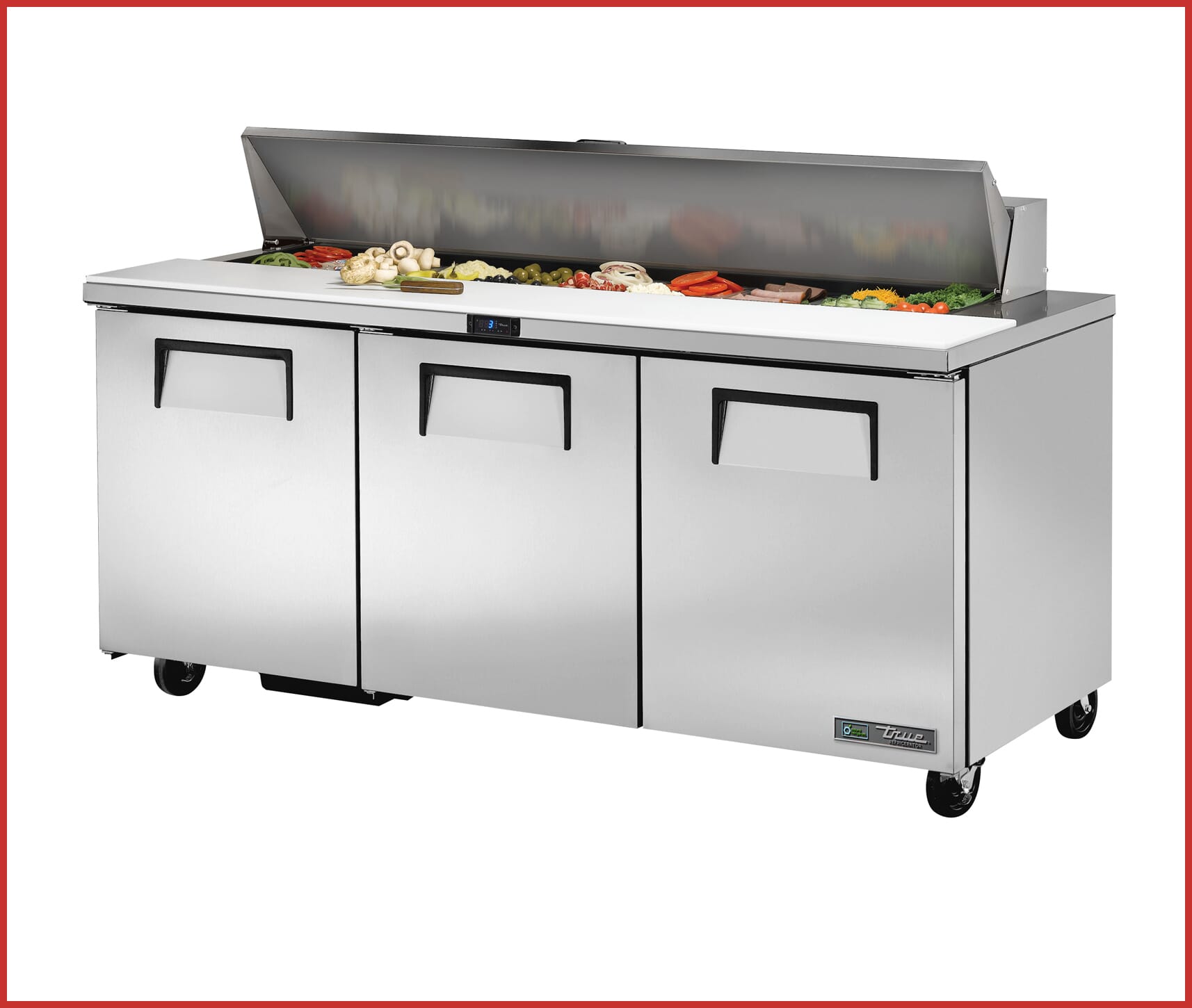 Dimensions: 1839mm x 766mm x 1093mm
Shelf Size: 547mm x 514mm (x3) + 547mm x 349mm (x3)
GN Capacity: 18 x 1/6 150mm deep
Doors: 3
Storage Capacity: 538 Litres
Shelves: 6
Finish: Stainless Steel
Temperature: +0.5 - +5
Power Supply: 13AMP Plug Fitted
Warranty: 5 Years Parts and Labour
Price:
£2,765
+ VAT
True TSSU-72-18-HC Spec Sheet